~ Barbaric Majestic Occult Dark Metal ~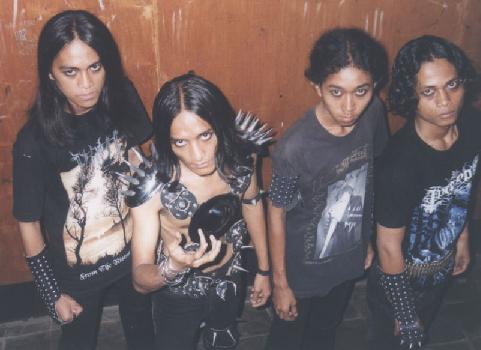 Abu Black Ass and Muin Dark Speare at Bandung founded UNSEEN DARKNESS in the nocturnal night March 31th 1998. Some month later, Sabo Warhamer join with UNSEEN DARKNESS for complete the line-up to:
Abu Black Ass : guitars, vocals
Muin Dark Speare : bass
Sabo Warhammer : drum
In beginning UNSEEN DARKNESS singing a songs from BURZUM whom is to influence for their music. With last line-up and their music concept is "Barbaric Majestic Occult Dark Metal", UNSEEN DARKNESS has been finished their first demo with title "Into a Majesties of Eternal Night".
In Juny 1998, Andriani Black Frost join for completed their madness in the below of UNSEEN DARKNESS flag. Their newest line-up is:
Abu Black Ass : Barbaric Dark Litany (vocals)
Muin Dark Speare : Sign of Nocturnal Occult (bass)
Sabo Warhammer : Blasting Storm of Mist (drum)
Andriani Black Frost : Blustery Nocturnal Whippers (guitars)
With this line-up, UNSEEN DARKNESS came back to add their songs, among other things:
1. An Order to Glorious Way
2. The Art into the Winter Nights
3. Sign of Mighty Dark Lord
4. Unholy War Pride
Their music and lyric much more talking about sadistic wars, darkness, to revenge, and mortality will be take and more change we as gathering of rude peoples who are always covered by darkness. SALVE THE DARKNESS !!!
Contact:
The Choosen Clan of Darkness
"Unseen Darkness"
C/o Black Ass
Karang Tineung 100 A / 181
Bandung 40162
West Java - INDONESIA
Phone: 62-22-2060726
E-mail : unseendarkness@angelfire.com