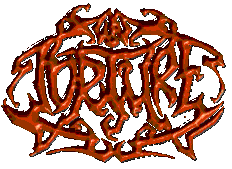 BIOGRAPHY
TORTURE founded in 26 June 1997. First time they were a session band, then they agreed as a solid band. The members of the group are :

Wahyu Hymnesty (dari ARWAH) - Vocal, Guitar
Awank (dari RITUAL SYMPHONY) - Bass
Boy/Irwan (dari BARZAH) - Lead Guitars
Acoy (dari BARZAH) - Drums
Iyan (dari INSOMNIA) - Lead Vocal

DISCOGRAPHY
Ep "Terrible Of Century" - 1998

CONTACT
C/o Achoy
Comp. Chandra Indah
Jl. Timor Blok A No. 77
Pondok Gede - Bekasi 17414
INDONESIA
Phone: 62 021 8468995
---
Translate to English by Luhur B.
Design & Maintenance by

Copyright © 1999 Indonesian's Corpsegrinder Website