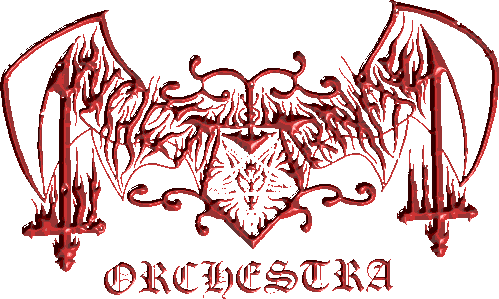 ~ Extreme Sundanese Ethnic Black Metal ~

BIOGRAPHY
NOCTURNAL ORCHESTRA was born in 14 July 1999 in Bogor with first formations is Agatos Daimon (bass & vocal), Zhyeithan (drum) and Lucifer (guitars). Three weeks later Doom Occulta (ex. PORTALISM HELL) come to join with NOCTURNAL ORCHESTRA on bass, so Agatos Daimon just take the scream vocal.
This formations just for three month, after that Agatos Daimon has been kick-out from the band for his personal problems with NOCTURNAL ORCHESTRA.
In December 1997, NOCTURNAL ORCHESTRA has recuited three additional musicians, they are Draconis (keyboard), Ereshkigal (vocal), and Princess Lucretia (female vocal), with this formations NOCTURNAL ORCHESTRA playing songs from CRADLE OF FILTH with music concept "Ethnical Blasphemic Black Metal".
After two month, Draconis, Lucretia and Erishkigal left from the band for the personal reasons, and NOCTURNAL ORCHESTRA with three members changes their music style into extreme and aggressive black metal, they called their new music style is "Pure Extreme Sundanese Black Metal", and then NOCTURNAL ORCHESTRA changes all their songs from 'Gothic Black' into 'Pure Extreme Black Metal' with influences MARDUK, THE BLACK and THE ABYSS, for lead vocal taken by Zhyeithan.
In February 1998, Zeboath come to join with this band in rhytem guitars, but not for long time, Doom Occulta has been kick out and now Zebaoth take the bass guitars.
July 1998 NOCTURNAL ORCHESTRA was release their first mini album with 6 songs and 2 intro called "Nar Samum".
LINE-UP
[from left to right]
Count Zebaoth - Bass
King Luciferian - Guitars
Lord Zhyeithan - Drum & Vocals
DISCOGRAPHY
"Nar Samum" - 1998 Ep
Track list:
Jonggring Saloka (intro)
Legenda Pantai Selatan
Nar Samum
Grave of Barbarian Warrior
Battle of Kurusetra
Nocturnal Orchestra
Telaga Kesediahan
Sundanese Dark Mystical Black Magig (outro)
TOUR LIST
Pentas seni UNIDA I, Bogor
Festival Rock Blackmeok I, Majalaya *
Festival Atmosphere Rock I, Poster Cafe - Jakarta *
Pentas seni musik PESEK II UNIDA, Bogor
Parade Musik SMA I Cikupa, Tanggerang *
Festival Musik Bambu Cafe, Tangerang *
Parade Musik UNIDA III, Bogor
Festival Musik JAMZ, Bogor
Parade Musik Kemerdekaan, Tangerang *
Festival Musik Anak Bangsa FEKON UNIDA, Bogor *
(nb: * guest band)
For more information and booking management, contact:
CIRCLE OF CEREMONOCTURNO SATHANAS
C/o Emil Zhyeithan
Jl. Raya Ciawi - Sukabumi
Gg. Pesantren Kh. Ma'mun Rt. 02/07 #11
Ciawi - Bogor 16720
Phone : (0251) 240252 - Emil/Agus Gondrong