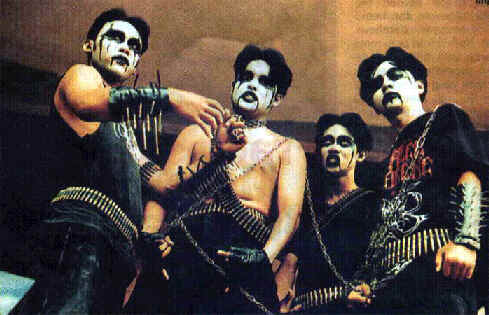 They found the name Impish on their History text book, because this young "black metallizers" are still schooling at a high school seats (SMU Pasundan 2 Bandung).
Impish is Yono (vocal), Roni (drums), AW (bass), and Deni (guitar).
"Impish" means "looks like Satan". This name is choose because of their characters and the music they bring.
This band was formed on March 18 1996. But even they are schooling they are trying to show up in every gig as maximal as they can.
They have made a collection of their own songs ready for the their first album. The theme is about the world which in the day to day live is being crushed and dissolved by the peoples who doesn't have moral.
In the process of making music, Impish does not practice.
From listening to cassettes is enough.
When they are onstage, they usually make up their faces look like Black Metal artist from the west.
As a student they always protested by their parents an their environments. But they've promised that Impish will be their ways to love Black Metal music.

---
This site contributed by Nabil
Design & Maintenance by

Copyright © 1999 Indonesian's Corpsegrinder Website