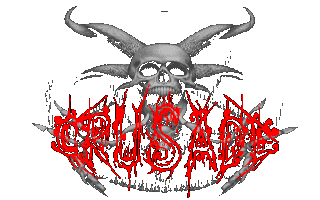 N E W S


25 May 1999
Hendrik join with CRUSADE again since 1 May 1999.
Next Tour:
- 8th August 1999 at GOR Saparua Bandung
- 22th August 1999 at GOR Subang
- 12th September 1999 at GOR Teater Garut
2 May 1999
CRUSADE tour to Sukabumi.
CRUSADE are going to record their full lenght album on the end of May 1999. Wish our luck OK!!! Cause we need your support.
1 May 1999
Hendrik (guitars) leave from the band. And for live performence, CRUSADE uses additional musicians, they are:
- Heno St. : guitar 1
- Enchu : guitar 2
- Ogy : keyboards
30 April 1999
New live photos has been added in photo gallery.
13 April 1999
CRUSADE's photo gallery has been added in menu. You can get some live photo of Crusade, and many photos will be added soon.
March 1999
CRUSADE has been cancel their contribute for BMS Compilation because when they record their song, they are not get good quality recording.
Now, CRUSADE prepare their first E.P. with title "HATEFULL AND CRUELTY", and will be released soon. Wait for this one!!
January 1999
CRUSADE will be contribute their song for BMS (Blazing Metal Sadism) Underground Compilation Jogyakarta. Released in February '99. Wait for it's !!!
December 1998
CRUSADE uses female vocal, she is In's Sarasilva.

Metal Inquisition Banner Exchange
Copyright © 1999 Indonesian's Corpsegrinder Website