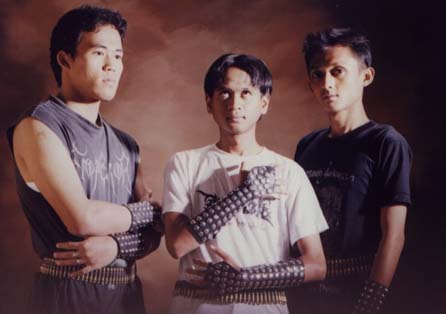 Sadism, eternity, and darkness are the point of the own compotition of this band. At the beginning, they called their music by " Extreme Noise Black Metal", and founded by two insane guys are Ivan Black Sartor (vocal) and Ade Mehongx (guitar). Both of them are the first formation who played together with Wangde (guitar), Opiks (bass), Yadi (drum), Ricky (vocal), and Besty (backing vocal). This formation influenced by Cradle of Filth and Marduk. But they dicided to be vacum for awhile.
In 1998, back again by "fresh blood" offering by their new personnel are Andi (guitar), Yoky (drum). At the beginning of 2000 they decided to play what they call " Extreme Harmonic Black Metal " influenced by Ungods, The Black and The Abyss.
Amortize are Ivan Black Sartor (vocal), Andi (guitar), Asep (bass), Adi (drum).
They already release four (4) promo demo just for you guys who really love our darkness side !!!!!!!
" NOT EVERY GIFT IS A BLESSING "
Contact them at :
AMORTIZE
C/o Ivan Black Sartor
Pasirkaliki St. H.Tabri # 30A / 65 06 /11
Bandung 40162 West Java
Phone : 62 022 203561